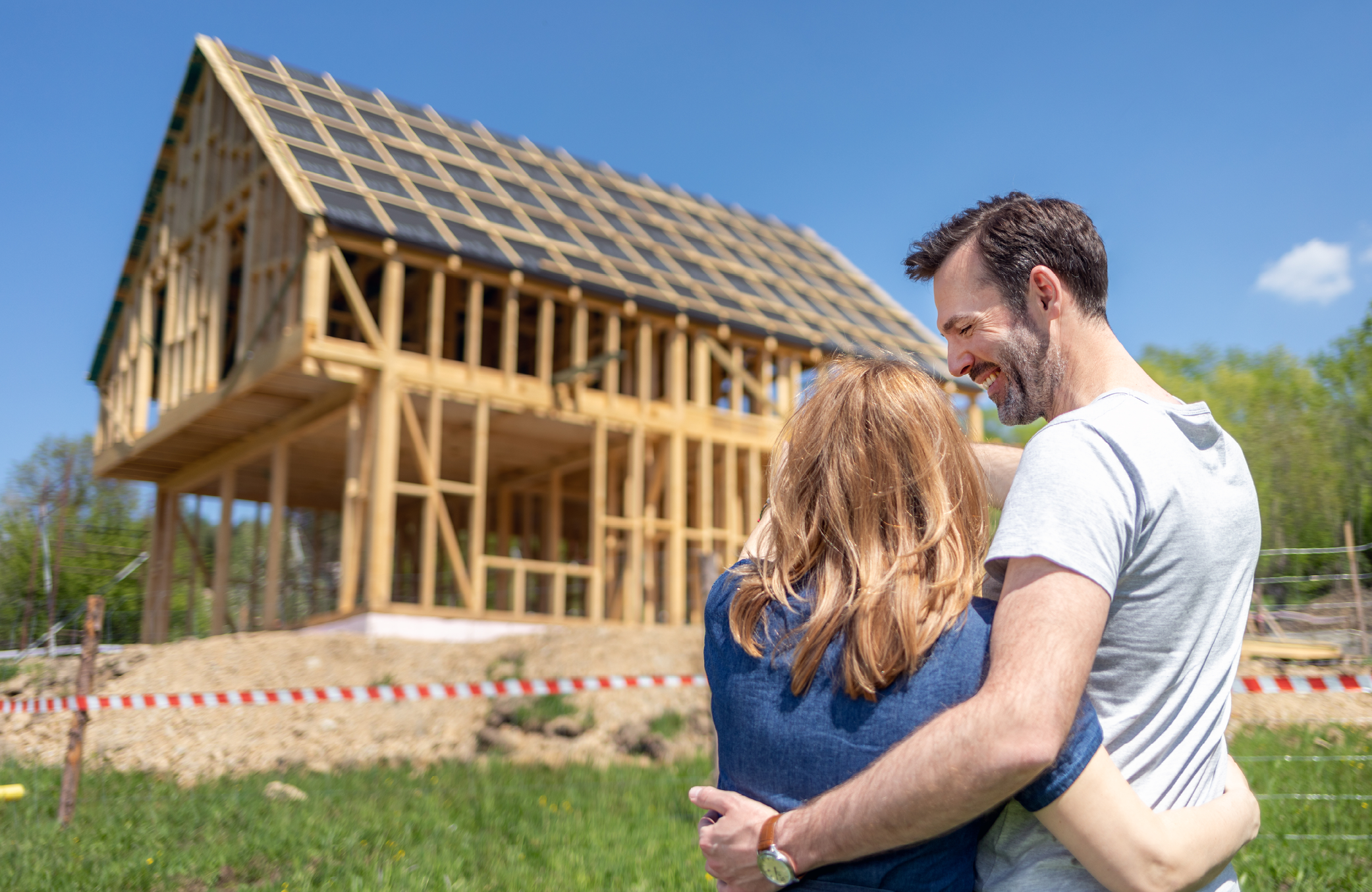 Whether you're struggling to find a home that fits your needs, or you're finally ready to build your forever home, our construction specialists will help you build your dream home on a strong foundation. With a variety of construction products, our goal is to help streamline the building process, leaving you comfortable and confident throughout the entire journey.

What is a Construction Loan?

A Construction Loan offers short-term financing to help cover the costs associated with building a home. During the construction phase, buyers will pay interest only on the amount disbursed to the builder.

Construction to Permanent loans offer homeowners the option to secure financing for both the construction of their home and their permanent mortgage all in one loan. This means that once the construction period ends, the loan is then converted to a traditional mortgage, loan terms are determined prior to the construction close. Buyers will still pay interest only during the construction period. Construction to Permanent financing allows buyers to work with one lender from start to finish, helping to save them both time and paperwork.

We offer* two types of Construction to Permanent Loans to best fit your individual needs, a "One-time Close" and "Two-time Close".

A One-time Close Construction to Permanent Loan offers qualified buyers:
One closing, which means there's reduced closing costs and you can close with one application.
An interest rate that is locked in prior to the construction closing and remains the same throughout the loan.
A 15 month construction period.
A Two-time Close Construction to Permanent Loan offers qualified buyers:
The flexibility to change the features of the loan at the end of construction.
Two sets of closing costs, which requires two applications.
A permanent mortgage rate that is not typically locked until 60 days prior to the home's completion.
A 12 month construction period.
The approval process

The application and approval process for construction loans can be more rigorous than that of a traditional mortgage. For example, construction loans typically require a higher down payment, good to excellent credit, a lower debt-to-income ratio and can incur higher interest rates. We must verify that you have at least 15% contingency funds in addition to your down payment and closing cost.

Why? If you default on your construction loan, there's no actual home to repossess, making it riskier to lenders.

Along with your application, your lender may require a copy of the deed to the land (or contract for the purchase of the land if you don't own it already), a contract with a builder, complete builder information, plans and specifications for the home, certificate of liability insurance for the builder, and builder's risk/homeowner's policy. Your builder will need to be vetted by your lender, as well. If a builder has not been vetted already, additional documentation will need to be submitted for approval.

How does the builder get paid?

Construction loans also differ from traditional mortgage in how funds are distributed. With construction loans, builders are paid through a series of "draws" throughout the construction process. Construction draws require a site visit or progress inspection by an approved inspector.

Benefits to buying a newly built home:
Customization. Many builders work directly with homebuyers to customize the entire house to the buyer's specific taste. Imagine moving into a home that has everything on your checklist, and nothing on your "to do" list. When it comes time to move into your new home, you won't have to worry about making costly repairs or upgrades, giving you more time to enjoy your new home and love where you live.
Modern floor plan. Even if you don't get the chance to customize your home, a newly constructed home will feature the layout that the majority of today's homebuyers demand: an open floor plan, eat-in kitchen, granite countertops, walk-in closets, large master bath, and plenty of storage space. Chances are your newly built home will also have larger bed- and bathrooms with tons of natural light.
Energy-Efficient. Most new homes are constructed to be more energy-efficient with a tighter-sealed building envelope. Cool and heated air is prevented from escaping due to high-efficiency insulation, doors, and windows. Newer homes also include energy-efficient appliances that help to reduce utility costs for homeowners. These green appliances include high-efficiency stoves, refrigerators, washing machines, water heaters, furnaces and air conditioning units.
Low maintenance. A new home will have fewer repairs and less maintenance. When you buy a new home, you won't need to spend money replacing outdated carpets, repainting walls, fixing plumbing or purchasing new appliances. Less home maintenance will be required because today's new homes are engineered to minimize maintenance. In many cases, builders agree to a warranty on the house, placing the responsibility for repairs on the builder until the warranty expires.
Safety and technology features. You will spend less time worrying about safety issues in the home, thanks to new safety features such as fire retardant carpets, high-tech alarm systems, state-of-the-art circuit breakers, and electric garage doors with motion sensors. Today's construction companies will use low- and zero volatile organic compounds within the house, greatly reducing the chance of toxic vapors. Other technological benefits within newly built homes include built-in speaker systems, built-in internet and cable wiring, and built-in entertainment systems. With top-of-the-line technologies, minimal maintenance, and modern layouts with tons of entertaining space, your newly built home will be the envy of your friends and family.
*Construction loans are available in MD, PA, DE, VA, NC, SC, & FL. One-time Close not available in in all areas.
Categories