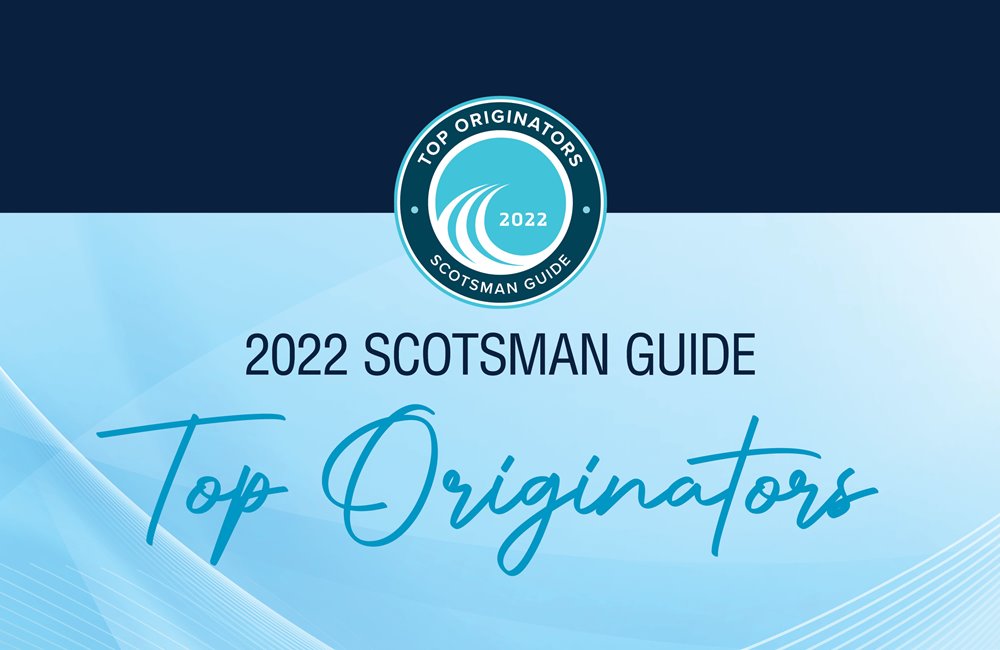 Congratulations to our 2022 Scotsman Guide Top Originators
For the last 12 years, Scotsman Guide has ranked thousands of the nation's top-producing residential mortgage originators. This list has become a national benchmark for the mortgage industry. We are proud to announce that the following Towne Loan Officers have been named Top Originators by the Scotsman Guide:
Congratulations to everyone on our team who was able to join this prestigious list. View the full list here.
| | | | | |
| --- | --- | --- | --- | --- |
| Loan Officer | Company | Location | Years in Business | Total 2021 Volume |
| Ray Shanahan | TowneBank Mortgage | Charlotte, NC | 17 | $ 174,802,070 |
| Phil Jawny | TowneBank Mortgage | Raleigh, NC | 24 | $ 146,104,789 |
| Sherman Dryden | FitzGerald Financial Group | White Plains, MD | 22 | $ 114,615,127 |
| Arthur Ohr | FitzGerald Financial Group | Rockville, MD | 33 | $ 100,277,472 |
| Skip Templeton | NewTowne Mortgage | Virginia Beach, VA | 23 | $ 90,837,241 |
| Ann Fisher | FitzGerald Financial Group | Annapolis, MD | 15 | $ 73,125,096 |
| Chris Bufis | NewTowne Mortgage | Virginia Beach, VA | 5 | $ 63,450,851 |
| Bradley Benham | Towne Mortgage of the Carolinas | Raleigh, NC | 18 | $ 63,412,910 |
| Kasey Martin | FitzGerald Financial Group | Rockville, MD | 20 | $ 59,715,491 |
| Samuel Leach | FitzGerald Financial Group | White Plains, MD | 24 | $ 59,366,940 |
| Doug Anderson | Towne Mortgage of the Carolinas | Raleigh, NC | 23 | $ 58,418,034 |
| A.J. Campitelli | FitzGerald Financial Group | Annapolis, MD | 30 | $ 58,367,153 |
| Jennifer White | TowneBank Mortgage | Glen Allen, VA | 20 | $ 57,314,282 |
| Christopher Coy | TowneBank Mortgage | Raleigh, NC | 15 | $ 55,868,709 |
| Trent Olsen | Towne Mortgage of the Carolinas | Raleigh, NC | 11 | $ 53,318,889 |
| Scott Haney | FitzGerald Financial Group | Annapolis, MD | 15 | $ 52,938,024 |
| Bill Weakley | Advance Financial Group | Virginia Beach, VA | 9 | $ 52,879,505 |
| Steven Boyce | Towne Mortgage of the Carolinas | White Plains, MD | 17 | $ 52,576,622 |
| Chris Donavin | FitzGerald Financial Group | Arlington, VA | 21 | $ 52,337,729 |
| Nick Russo | Towne Mortgage | Virginia Beach, VA | 14 | $ 51,351,647 |
| Chace Cooper | TowneBank Mortgage | Virginia Beach, VA | 11 | $ 48,219,057 |
| David Joyner | TowneBank Mortgage | Kitty Hawk, NC | 21 | $ 46,587,028 |
| Renee Bevan | TowneBank Mortgage | Newport News, VA | 23 | $ 46,314,593 |
| Jason Slaughter | FitzGerald Financial Group | Columbia, MD | 20 | $ 46,296,593 |
| Gail Burns | TowneBank Mortgage | Williamsburg, VA | 28 | $ 45,149,120 |
| Mary White | TowneBank Mortgage | Glen Allen, VA | 20 | $ 43,784,348 |
| Rusty Parker | NewTowne Mortgage | Virginia Beach, VA | 20 | $ 42,606,459 |
| Kristine Arbogast | TowneFirst Mortgage | Glen Allen, VA | 20 | $ 42,234,932 |
| Wesley Hobbs | FitzGerald Financial Group | Alexandria, VA | 22 | $ 42,175,876 |
| Jeri Benner | FitzGerald Financial Group | Frederick, MD | 20 | $ 42,161,857 |
| Wilmer Palacios | FitzGerald Financial Group | Greenbelt, MD | 18 | $ 40,442,459 |
| Kevin Davis | FitzGerald Financial Group | Rockville, MD | 21 | $ 40,160,433 |
Categories